27 March 2023
Origins of up to 44 percent of Danish wood is a mystery
Forrest
In the first ever report of Denmark's total wood consumption, University of Copenhagen researchers conclude that the origin of nearly half of all timber felled in Denmark is a mystery. This is a problem according to the researchers behind the report, as increased knowledge about wood consumption can contribute to greater sustainability.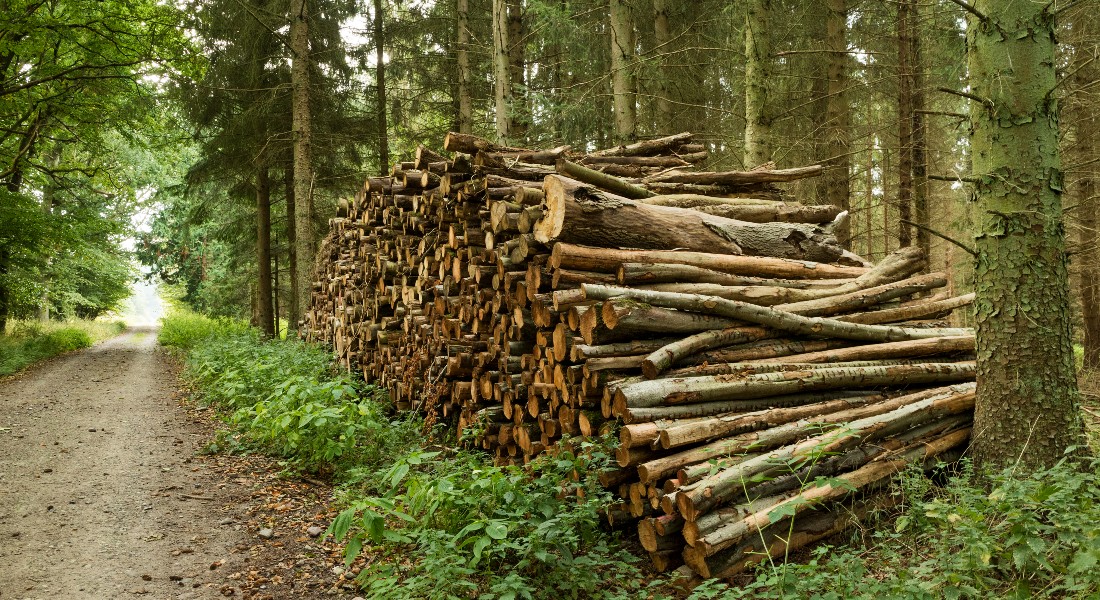 It provides warmth on chilly days and is a versatile material that we use for construction, tools and furniture. For hundreds of thousands of years, humans have been putting this cherished resource to good use. But as with increasing pressures on our planet's climate and natural world, wood too has become a resource that we need to protect. 
In a new report, researchers from the University of Copenhagen have mapped Denmark's so-called wood flows, which account for the country's total consumption of wood. In the future, the results will be used to improve timber use, and in doing so, relieve strain on our forests.
The researchers' review of Danish wood flows demonstrates that up to 44 percent – or 2 million cubic meters – of the wood felled in Denmark cannot be traced back to where it was logged or to what type of wood it is.
This is problematic, says Associate Professor Niclas Scott Bentsen, one of the researchers behind the report.
"It is difficult to overlook a gap of this size in our numbers. This large and unregistered wood flow is a problem because we're a society dedicated to recycling and circularity. As such, we need to know what this rather large dark number is for some of the wood, because it could be used for more than just being burnt off as energy," he says.
Bentsen adds that the actual amount of this dark, unregistered wood is inherently subject to uncertainty. However, based upon figures and statistics from national accounts compiled by Statistics Denmark and others, the researchers can see that unregistered wood is used for energy production.
The researchers assume that it is sourced from trees felled in unregistered forest areas, including agricultural areas with Christmas trees, poplars grown for energy production and wood sourced from windbreaks, parks, gardens and other natural areas. But they just don't know.   
90 percent is burned
The report also shows that 87-90 percent of our wood consumption is used for energy, while only 8 percent is recycled for other purposes in, for example, construction, industry or the energy sector.
"We're really good at burning wood but could do better by putting the wood to use a few times prior to burning it off," says Niclas Scott Bentsen.
According to the researcher, in a perfect world, our wood consumption would be part of what's known as a cascade. For example, a piece of timber could first be used for construction or furniture. Leftovers could be transformed into other building materials such as fiberboard, while still other residuals could be used for textiles, before eventually being burned for energy.
"Getting better at using the same wood for multiple purposes will relieve pressures on our forests, bind carbon longer and overall, be a big win for the climate," he says.
Facts from the report
Total domestic wood consumption leapt from 13.1 million m3 in 2016 to 17.5 million m3 in 2018. 76% of this increase in consumption can be attributed to the use of wood for energy purposes.
The mapping demonstrates that wood for energy accounted for a significant portion of domestic consumption – 90% in 2016 and 87% in 2018.
The mapping indicates that large quantities of timber in the Danish wood flow are not registered in logging statistics or other forms of timber harvesting. This unregistered amount accounts for up to 44 % of total domestic harvesting and is mainly used for energy purposes.
The development of the wood flow model and analysis of wood flows is based on figures from Statistics Denmark combined with data from other sources regarding energy use, foreign trade, and the transformation and processing of wood products.
The report will pave the way for action
This study marks the first mapping of Danish wood flows. But according to Bentsen, the hope for the future is that the figures will be calculated annually, so as to continuously monitor wood consumption trends, and in doing so, form a basis for using this resource in the most sensible manner possible.
He adds that similar mappings of other materials, such as plastics, could benefit society's pursuit of sustainability and efforts to mitigate climate threats. 
"With this report, we've created the first overview of how our wood resources are consumed. It's a good starting point for further discussion among politicians and the timber industry with regards to how we can enhance sustainability in this area," says the researcher.
With the adoption of the 2022 Danish National Budget, an agreement was reached on the drafting of a forest plan. One element of this forest plan is an analysis of wood flows in the Danish economy. Among other things, the Forestry Council pointed out that a complete mapping of available wood resources and resource use is lacking, as well as an assessment of the consequences of increased timber imports to Denmark.
 The new report provides the first overview of Danish wood flows.
Contact
Niclas Scott Bentsen
Associate Professor
Department of Geosciences and Natural Resource Management
University of Copenhagen
Mobile: +45 20 20 63 18:
Email: nb@ign.ku.dk
Michael Skov Jensen
Journalist and team coordinator
The Faculty of Science
University of Copenhagen
Mobile: +45 93 56 58 97
Mail:msj@science.ku.dk
Topics