29 April 2022
Phenomenal raw materials will get Danes to fall in love with plant-based diets
Plants
Phenomenal raw materials and ingredients are the way forward if more people are to replace meat products with plant-based alternatives and Denmark is to become a world leading producer of plant-based foods. Today, the most ambitious research project in its field to date is underway at the University of Copenhagen, one that will kickstart the breeding of crops tailored for plant-based diets.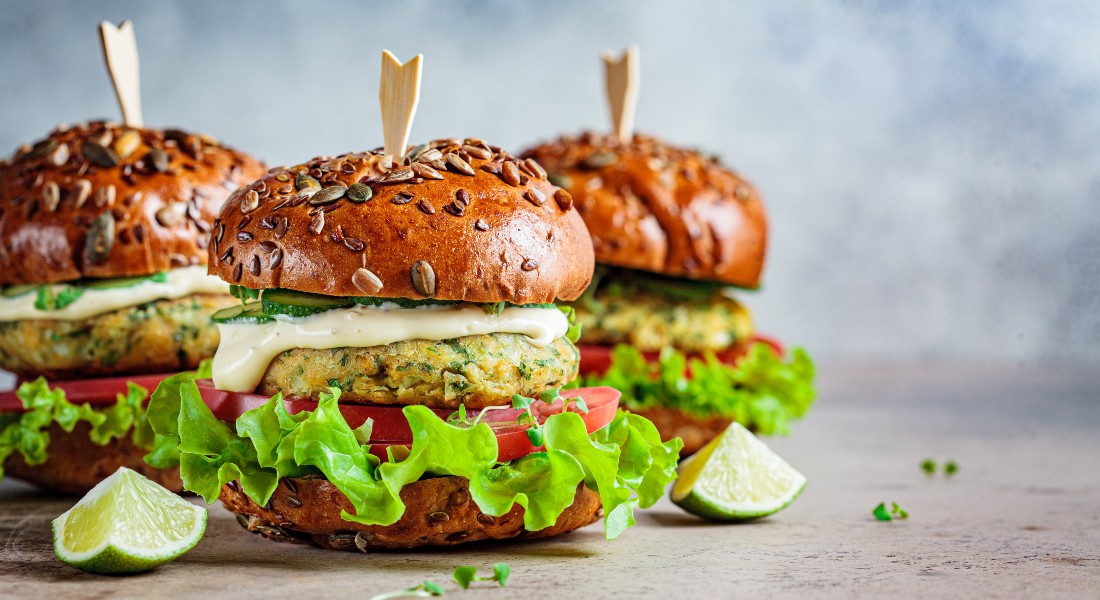 Researchers at the University of Copenhagen have launched their quest to find the best raw materials and ingredients for tomorrow's plant-based foods this week in a field twenty kilometers west of Copenhagen. Plant-based foods can reduce human greenhouse gas emissions, heal nature and the environment and make us healthier. However, one of the problems is that plant-based foods still don't taste good enough for consumers to willingly replace their beef, for example, with plant-based alternatives.

Among other things, this is because the plant ingredients now being used for products like plant-based patties were originally developed and grown as feed for the livestock that we would now like to have fewer of. In a new research project, researchers, alongside the Danish agriculture and food industries, are addressing the root of the problem with an entirely new and more radical approach to plant-based foods.

"To succeed in getting more people to adopt plant-based foods, we need to get back to square one and develop plants that are suitable for human consumption which taste good, are highly nutritious and are well-suited to the Danish climate," says Associate Professor Christian Bugge Henriksen of the University of Copenhagen's Department of Plant and Environmental Sciences, who is leading the project.
Better raw materials, after just one year
The project initially runs for two years and has begun by studying the three main crops now being used for plant-based food production that can be grown in Denmark – oats, peas and fava beans. The first step will be to test ten varieties of these three crops and select the best.

"We test the varieties from every angle to investigate taste, nutritional value and their suitability for the Danish climate, so as to ultimately find the most promising ones for human foodstuffs," says Christian Bugge Henriksen.

This work includes a large library of genetic variants that Carlsberg has made available to the researchers. Using the library of genetic variants, the researchers can identify which genes in a fava bean, for example, need to be optimised to provide optimal taste from the get go.

"Because dried peas and fava beans used for plant-based foods are optimized for use as animal feed, they often have an aftertaste that is unappealing to consumers. The food industry is currently attempting to mask this taste by way of heavy processing and additives. We want to move away from that because food is healthiest and most climate-friendly when processed minimally," explains Christian Bugge Henriksen.

If everything in the project moves ahead as intended, farmers will be able to start growing the varieties selected by the researchers as soon as next year, which can then be developed further.
Denmark stands to become a world leader
According to Christian Bugge Henriksen, Denmark has the opportunity to become world renown for plant-based foods, and a very realistic chance to become a world leader in the area if investments are made on an ongoing basis.
"Denmark clearly has what it takes. We have some of the world's best farmers, who are highly adaptable and want to throw themselves into new things. But this requires massive investment, so that the entire value chain – from crops, production, processing and consumers – is carefully considered and functions well," he says.
The project, AQRIFood (Advancing the Quality of plant-based Raw materials and Ingredients for Food application), is part of Innovation Fund Denmark's Innomission Programme 2022.
In addition to the University of Copenhagen, the following companies and actors are part of the project: Carlsberg A/S, DLG, Novozymes, Chr Hansen, Arla Foods, DAKOFO, Danish Crown, Danish Institute of Technology, Aalborg University, Aarhus University, SEGES Innovation, Innovation Centre for Organic Agriculture, Sejet Plant Breeding, Aarhus Protein A/S, Sicca Dania, DRYK, Crispy Food and Organic Plant Protein.
Contact
Christian Bugge Henriksen
Associate Professor
Department of Plant and Environmental Sciences
University of Copenhagen
Mobile: + 45 22 45 23 29
E-mail: svc@plen.ku.dk
Michael Skov Jensen
Journalist and team coordinator
The Faculty of Science
University of Copenhagen
Mobile: +45 93 56 58 97
msj@science.ku.dk
Topics